In early 2022, Les White founded Wolf Den Soaps and Gardens, LLC with a passion for creating a soap that met her high standards for quality and fragrance. Frustrated by the lack of options on the market, she set out to craft a soap infused with the exquisite aroma of the creosote bush (Larrea tridentata), which embodies the essence of a desert rain.
Determined to offer a unique product in a crowded market, we at Wolf Den Soaps and Gardens pride ourselves on using only the finest quality natural ingredients. Our soaps are primarily crafted with infused oils, and in select cases, essential oils are used to create dynamic fragrances. We also incorporate natural colorants to ensure our products are not only appealing to the senses but also gentle on the skin.
At Wolf Den Soaps and Gardens, we carefully select oils for their beneficial properties to ensure our customers receive a high-quality product that is both effective and luxurious. We take great pride in the quality of our handcrafted soaps and other products, and we look forward to sharing them with you.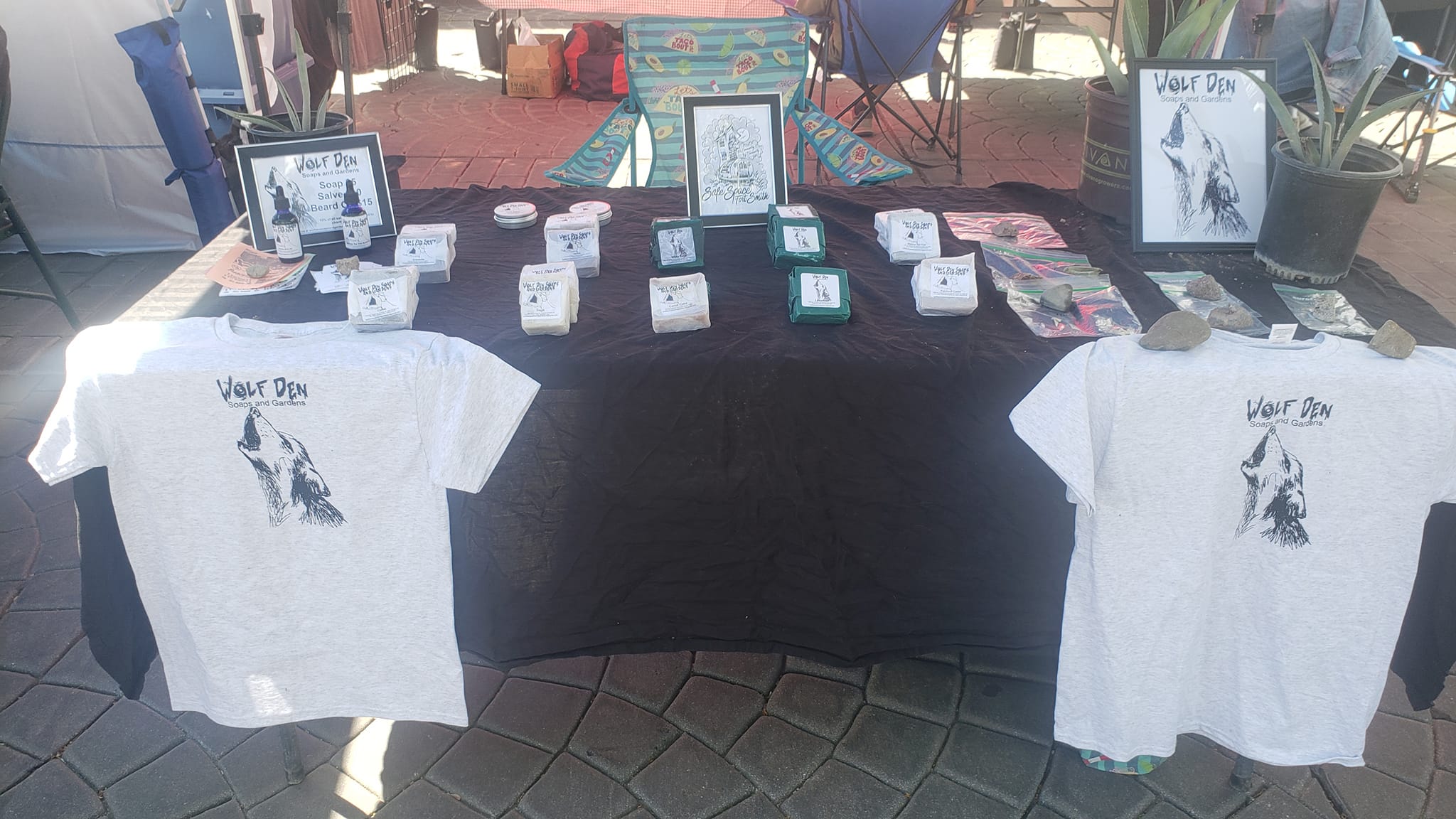 Please follow us for updates on special events and an up-to-date schedule.



Wednesday - Green Valley Heirloom Farmer's Market (101 S. La Cañada Dr., Green Valley AZ)
Thursday - Santa Cruz River Farmer's Market (221 S Avenida del Convento Tucson, AZ)
Friday - Udall Park Heirloom Farmer's Market (7202 E Tanque Verde Rd, Tucson, AZ)
Saturday and Sunday - St. Phillip's Plaza (4280 N Campbell Ave, Tucson AZ)

Bookman's (Tucson, Phoenix, and Flagstaff)
Mission Garden (946 W Mission Ln, Tucson, AZ 85745)
Pop Cycle (422 N 4th Ave, Tucson, AZ 85705)
Running Horse Gallery (Glenwood, NM)

5Blend (1645 W Valencia Rd #107, Tucson, AZ 85746)

Buffalo Trading Post (2740 S Kinney Rd, Tucson, AZ 85735)

Holy Cow Tack & Feed (7878 E Tanque Verde Rd, Tucson, AZ 85715)
Colliope Co (2706 N Silverbell Rd, Ste 3140. Tucson, Arizona 85745)
Art House Centro (186 N Meyer Ave, Tucson, AZ 85701)

Thank you for your interest in our products. We look forward to serving you!