All of our handcrafted soaps are carefully formulated with a unique blend of oils to provide maximum benefits for your skin. Our bars are generously sized, weighing 4.5+ ounces each. We begin with Olive oil for its exceptional moisturizing properties, then add Coconut oil to create a rich, bubbly lather and a clean, refreshing feel. Our next addition is Avocado oil, which is known for its beneficial effects on sensitive skin. Rich in vitamins A, D & E, this oil helps to improve skin health and extend the soap's shelf life. We also incorporate Castor oil and Hemp Seed Oil to our blend. Castor oil adds to the lather and is rich in ricinoleic acid, a natural antibacterial agent that helps to combat acne-causing bacteria. Hemp seed oil, on the other hand, rejuvenates and nourishes tight or dry skin, prevents flakiness and itchiness, and restores the skin barrier to help it retain moisture. We also use Beeswax to create a harder, longer-lasting soap that gently exfoliates the skin, leaving it smooth and refreshed. Our soaps come in a range of fragrances, from subtle to strong, to suit all preferences.
Creosote Soap - This soap offers the invigorating scent of desert rain, courtesy of the Larrea Tridentata plant. To create this unique fragrance, we harvest the plant fresh and infuse it into our oils, and use creosote tea to mix the lye and oils together. The result is a scent that is present but not overpowering, providing a refreshing and natural aroma for your everyday use.
White Sage Soap - Infused with the earthy and herbaceous aroma of White Sage, this soap captures the essence of a White Sage smudge in a bar. The scent is subtle yet present, offering a refreshing and cleansing experience.
Patchouli Cedar Soap - Crafted with a delightful combination of Patchouli and Cedar essential oils, this soap exudes a pleasant earthy and musky aroma. It is one of our most strongly scented soaps.
Campfire Soap - Indulge in the rugged outdoors with our captivating blend of smoky wood, pine, and spices. Experience the essence of nature as this soap cleanses and revitalizes, leaving your skin refreshed and rejuvenated. Embrace the wild spirit within.
Sweet Cherry Tobacco Soap - Experience the irresistible blend of sweet cherries and warm tobacco in our indulgent soap. Its unique fragrance creates a delightful bathing experience that leaves your skin refreshed and moisturized. Elevate your routine with this captivating scent.
Our salves are packaged in a convenient 2 oz. tin and crafted with Avocado oil, known for its moisturizing and acne-fighting properties. Additionally, it is believed to have anti-aging benefits and may aid in wound healing (after proper first aid). We also use Jojoba oil, which has antibacterial properties and helps in wound healing and moisturization. To thicken the salve and make it suitable for use on the skin, we add beeswax, which can act as a natural exfoliator and create a protective layer on the skin.
Creosote Salve - Infused with creosote oil, this salve offers a fragrant scent of the desert and contains avocado oil for moisturizing, jojoba oil for antibacterial benefits, and beeswax for a natural exfoliant and skin protectant.
Wolf Salve (Dog Paw Balm) - Our pet-safe balm is specifically designed for dogs' paws and noses. It is made with a blend of Olive oil, Coconut oil, Shea Butter, and Beeswax, all chosen for their moisturizing properties. While unscented and perfect for pets, it's also a great option for humans who prefer an unscented balm.
Our Beard Oil is available in a 2oz bottle with dropper for easy application. We begin with a base of Jojoba oil, a natural moisturizer that helps to control frizz and prevent dandruff. Avocado oil is also included for its deeply moisturizing properties. Olive oil is used to soften the hair, tame frizz, and prevent dandruff. Lastly, we add Castor oil, known for its moisturizing benefits and ability to promote hair growth.
Creosote Beard Oil - Our beard oil is infused with Creosote, giving it a unique fragrance that evokes the smell of desert rain. The scent is present but not overpowering, leaving you with a light and refreshing aroma.

Sweet Cherry Tobacco - Our scent captures the essence of luscious cherries combined with the rich aroma of premium tobacco. It strikes a perfect balance, providing a captivating fragrance that is both sweet and sophisticated. Experience the harmonious blend of sweet cherries and smooth tobacco, creating an alluring and indulgent aroma.

Our lip balm is carefully crafted with a blend of nourishing ingredients to keep your lips soft and moisturized. Presented in a 5ml clear plastic jar, this lip balm is made with Avocado oil, which penetrates deep into the skin to hydrate, repair the skin barrier, and promote smoothness. Additionally, we use Coconut oil to quickly absorb and provide moisture to heal dry, chapped lips. Beeswax, a natural emulsifier, retains moisture, making it an ideal ingredient for dry, chapped lips. Shea Butter, known for its anti-inflammatory properties, helps heal and prevent chapped lips. Furthermore, our lip balm includes Honey, which provides moisture and protection against cracked lips while also acting as a mild exfoliator to remove dry, dead skin. Lastly, Vitamin E promotes cell turnover and regeneration, effectively bringing new cells to the surface faster and contributing to healthier, smoother lips.
Strawberry Honey Lip Balm - Infused with natural strawberry extract and honey, this lip balm provides a subtle and delightful scent and flavor.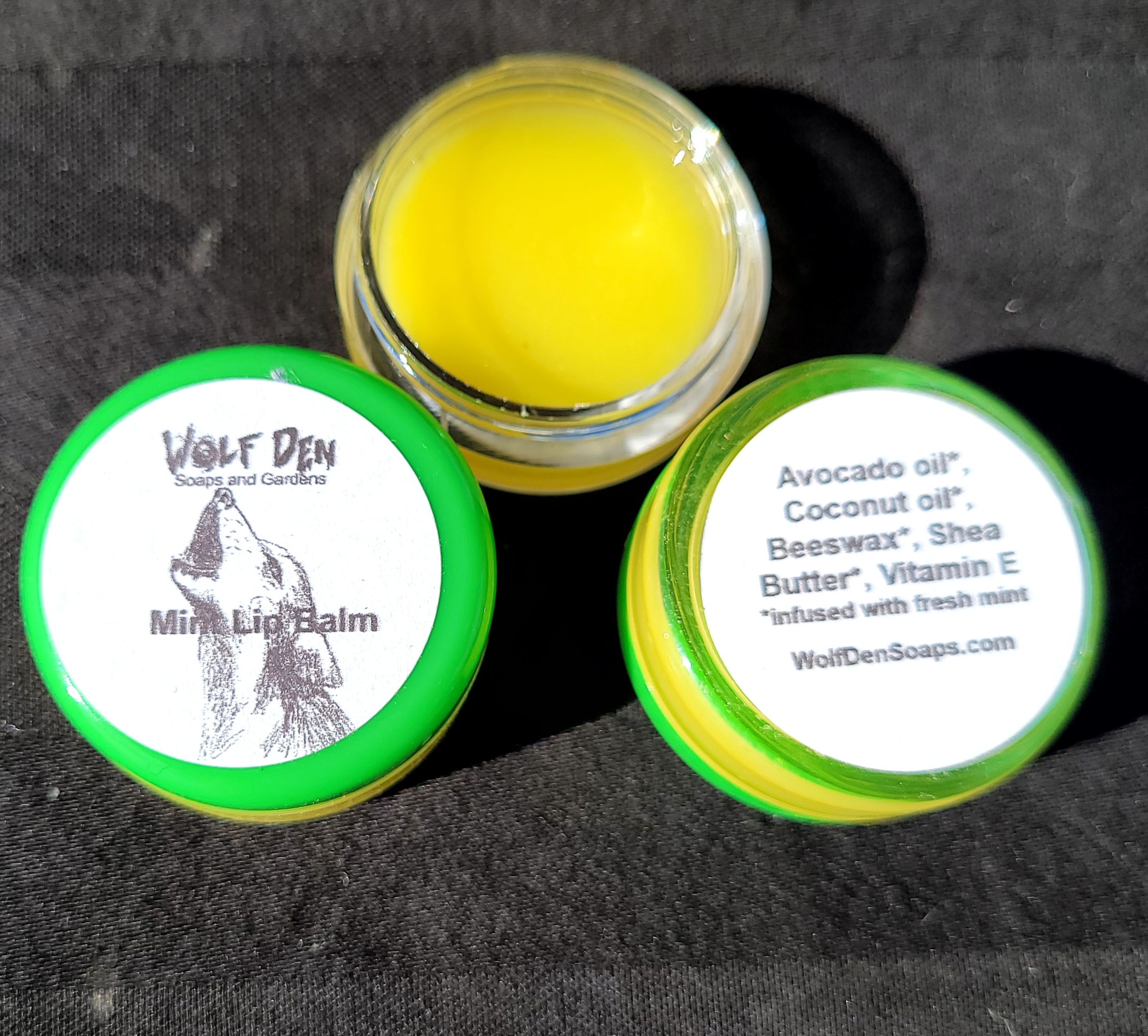 Mint Lip Balm - Infused with freshly harvested mint, this lip balm has a prominent mint scent and a light, refreshing taste.
Our deodorant is expertly formulated to keep you feeling fresh and confident throughout the day. Crafted with a blend of effective ingredients, it offers reliable odor protection without compromising on skin health. Our deodorant goes on smoothly and dries quickly, leaving no residue behind. Experience long-lasting freshness and embrace a worry-free day with our trusted deodorant.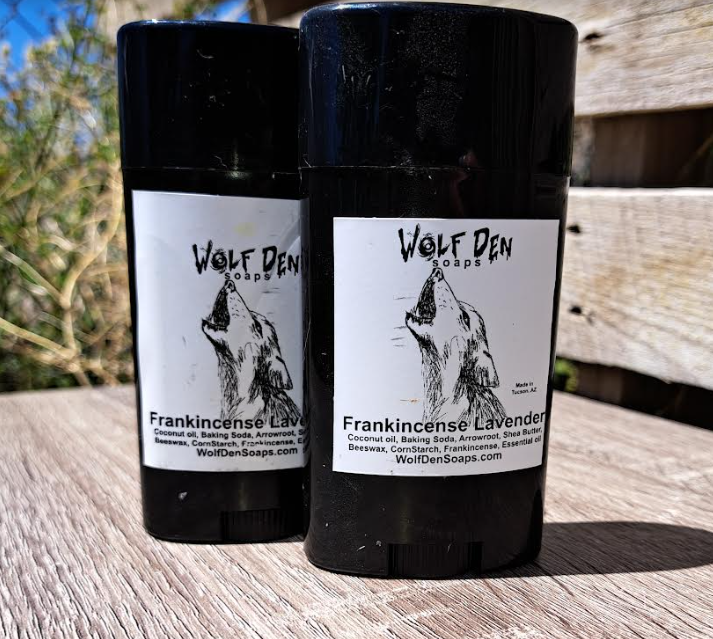 The scents that are available are:


Spring Fresh - Invigorate your senses with the refreshing scent of blooming flowers and crisp morning dew. Our Spring Fresh deodorant captures the essence of a vibrant spring day, keeping you feeling clean and rejuvenated.
Frankincense Lavender - Unwind and find tranquility with the soothing blend of frankincense and lavender. This deodorant combines the calming properties of lavender with the grounding aroma of frankincense, offering a serene and comforting experience.
Baby Powder - Embrace the timeless scent of innocence and purity with our Baby Powder deodorant. Delicate and gentle, this fragrance evokes the comforting aroma of freshly powdered baby skin, leaving you feeling fresh and nostalgic.
Sweet Cherry Tobacco - Experience a unique blend of sweetness and warmth with our Sweet Cherry Tobacco deodorant. The enticing fusion of ripe cherries and subtle tobacco notes creates a captivating and alluring fragrance that is both intriguing and memorable.
Mirkwood - Journey into an enchanted forest with our Mirkwood deodorant. Immerse yourself in the mystical blend of earthy moss, woody undertones, and hints of enchanting flora. This scent transports you to a realm of magic and adventure.
Creosote - Unleash your adventurous spirit with our Creosote deodorant. Inspired by the rugged outdoors, this scent captures the essence of sun-drenched desert landscapes and aromatic desert plants. With its warm and invigorating aroma, it embodies the untamed spirit of nature.